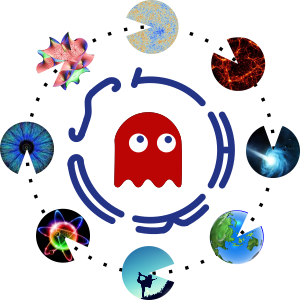 I work on theoretical high energy physics and cosmology — the connection between the tiniest elementary particles and the entire universe. My main research interest is cosmic inflation, which describes the origin of the universe. A focus of my research involves extracting information about fundamental particle physics from the properties of inflation.
The great fun of doing research also drives me to explore other areas: gravitational waves, cosmic strings, eternal inflation, dark matter, dark energy, modified gravity, AdS/CFT and computer algebra.
A list of my papers can be found at INSPIRE, or HKUST library. See also the research group of Center for Fundamental Physics for related research at HKUST.
Research interest in clouds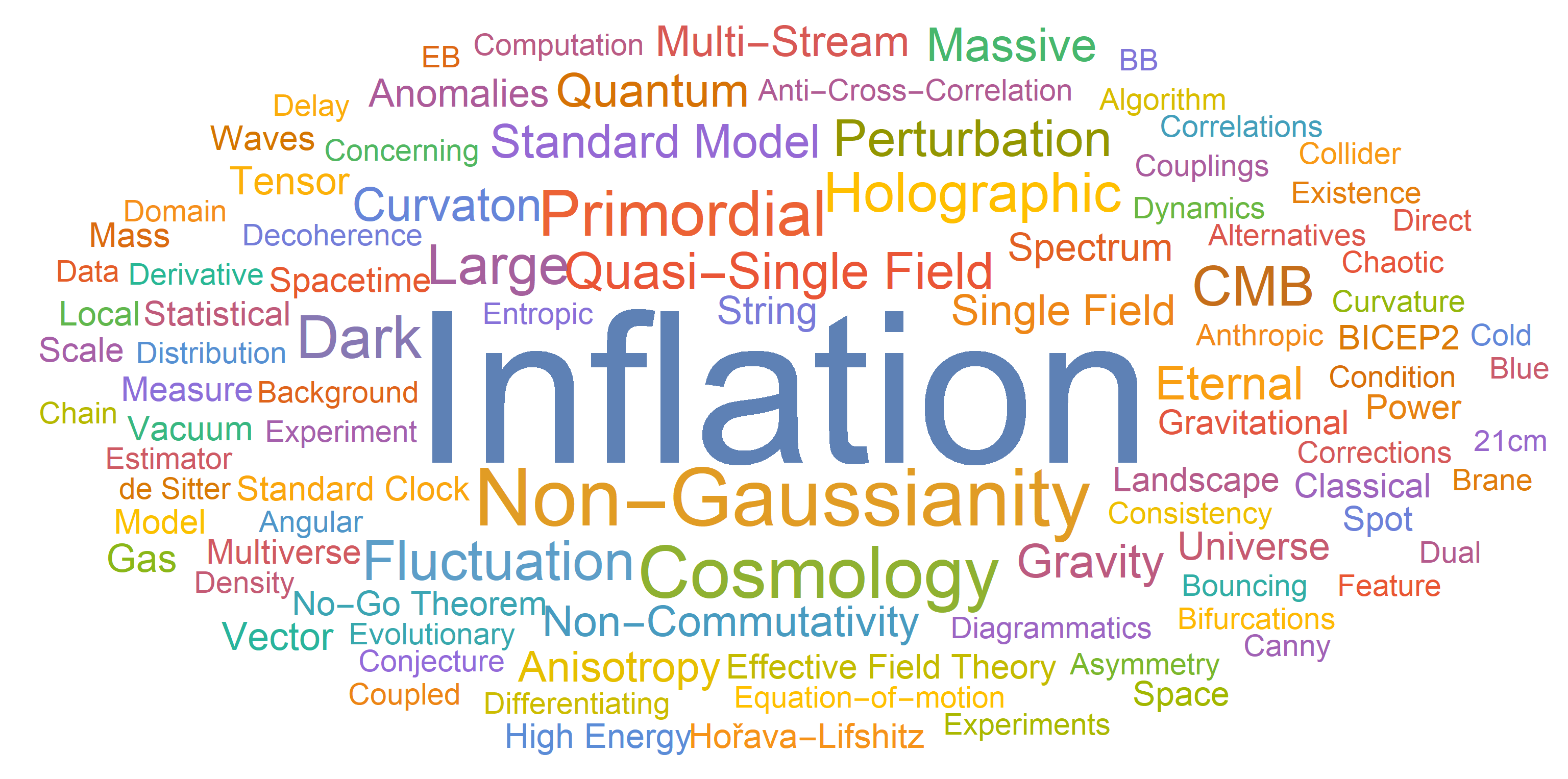 Figure generated by Mathematica:
pubData=Import["http://arxiv.org/a/wang_y_1.html","Data"];
idWords={"Non-Gaussianities"|"NonGaussianity":>"Non-Gaussianity","Cosmological"|"Cosmic":>"Cosmology","21":>"21cm","Sitter":>"de Sitter","Anisotropic"|"Anisotropies":>"Anisotropy","Anomalous":>"Anomalies","In-":>"In-In","Gravitataional":>"Gravity","High":>"High Energy","Quasi-Single":>"Quasi-Single Field","Fluctuations":>"Fluctuation","Inflationary":>"Inflation","Models":>"Model","No-":>"No-Go Theorem","Noncommutative":>"Non-Commutativity","Perturbations":>"Perturbation","Single"|"Single-field":>"Single Field","Space-time":>"Spacetime","Spectra":>"Spectrum","Standard":>"Standard Model","Effective":>"Effective Field Theory","Weak":>"Weak Gravity Conjecture","Clocks"|"Clock":>"Standard Clock", "Cm"|"Using"|"Conerning"|"Brief"|"Prohibited"|"Towards"|"Approach"|"De"|"Description"|"Dependence"|"Dependent"|"Echoes"|"Effects"|"Explains"|"False"|"Freak"|"General"|"Generalized"|"Generation"|"Genesis"|"Help"|"Energy"|"Field"|"Fields"|"Issues"|"Latest"|"Measuring"|"Old"|"Possible"|"Probe"|"Probing"|"Review"|"Model"|"Theory"|"Vesus"|"Theorem"|"Relations":>""};
filter="Title: "~~x__~~" Authors:":>DeleteStopwords@StringCases[x,(WordCharacter|"-")..];
titleWords=Flatten@StringCases[Flatten@pubData,filter];
titleWordsRegularized = Capitalize@titleWords /.idWords;
cloud=WordCloud[titleWordsRegularized,Disk[{0,0},{2,1}],ImageSize->2048]

Collaborators in clouds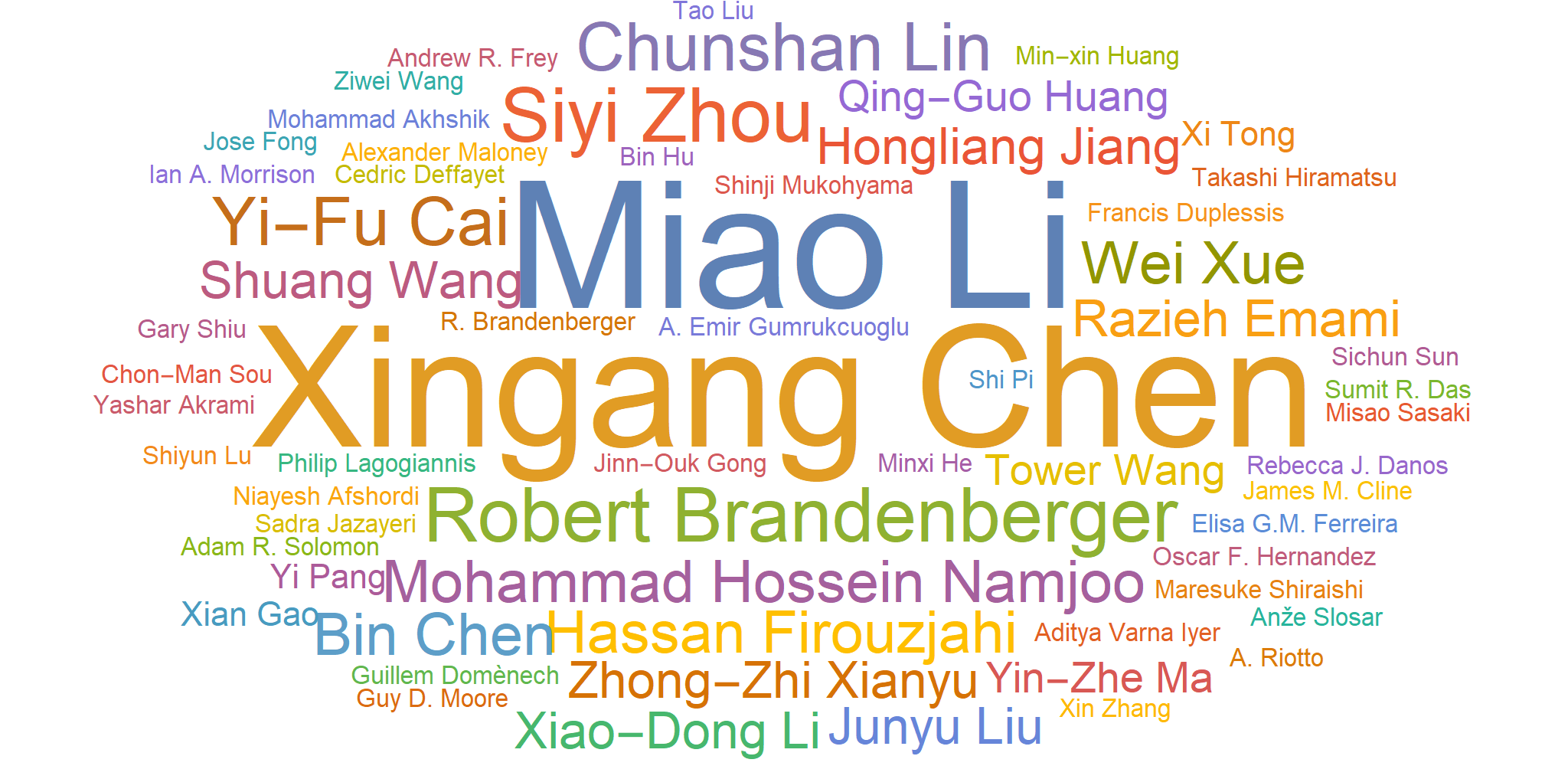 Figure generated by Mathematica:
pubData = Import["http://arxiv.org/a/wang_y_1.html", "Data"];
authors = DeleteCases[#, "Yi Wang"]& @ StringTrim @ StringReplace[#, "Robert H.":>"Robert"]& @ StringReplace[#, "("~~__~~")":>""]& @ Flatten @ StringCases[Flatten@pubData,Shortest["Authors: "~~x__~~" Comments:"|" Subjects:"|" Journal-ref:"]:>StringSplit[x,{","}]]/.{}:>Sequence[];
aCloud = WordCloud[authors, Disk[{0,0},{2,1}], ImageSize->2048]